SHAKER'S OLDEST PUBLIC SPACE
The site of its first school and town hall on Lee Road
Next time you pass the intersection of Lee Road and Shaker Boulevard, once the center of Shaker Heights Village, look at the northeast corner.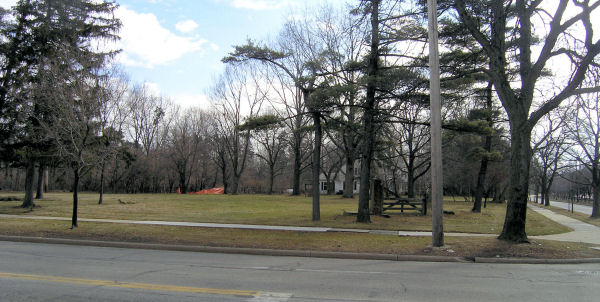 Still standing near the corner are two old sandstone columns, all that remains of the gate to the property on which stood the original meeting house of the North Union Shakers. The land is owned by the City of Shaker Heights.
The plaque on the right column will be shown below.

Below is the only photo we have found of the building, probably constructed around 1910, that originally served as the sales office of the Van Sweringen real estate company, then also the village school until Boulevard School was opened in 1914, and the the village offices until the the city hall on Lee Road north of Van Aken was opened.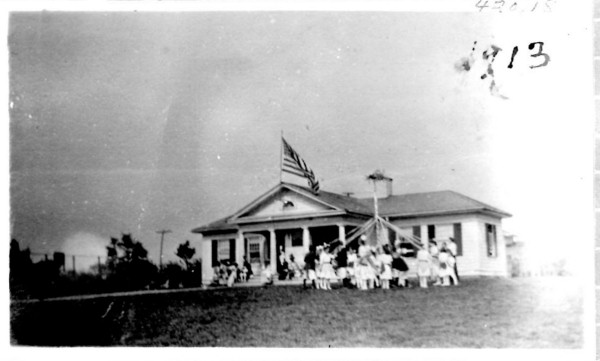 Taken in 1913, this photograph was in the photo album of an early Shaker resident. Courtesy of the Shaker Heights Historical Society, which erected the tablet shown below.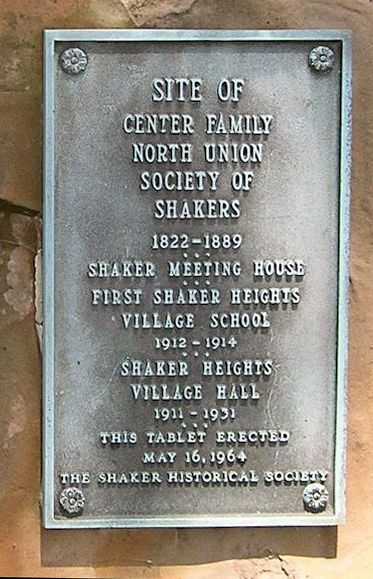 As of June 22, 2014 photos, except where noted, by Arnold Berger